How to Apply
The parent, legal guardian, or the student must receive power from the cooperative to be eligible. (Special cases of the above requirement are: parent is supplied residence on our service line as part of their pay. Applicant lives with grandparent or other family member on our service line.)
High school seniors or applicants wishing to continue their college education are eligible.
View Scholarship Eligibility Requirements
Click on a scholarship to download a printable application (or use the form to the right for all except Basin):  
Applications must be completed in full.  Applications will not be considered unless all requested requirements are met.
A selection committee outside the company chooses the recipients.
ALL APPLICATIONS MUST BE RECEIVED (NOT POSTMARKED) AT WYRULEC COMPANY'S OFFICE BY 4:00 P.M. ON FEBRUARY 1, 2021.
2019 Scholarship Recipients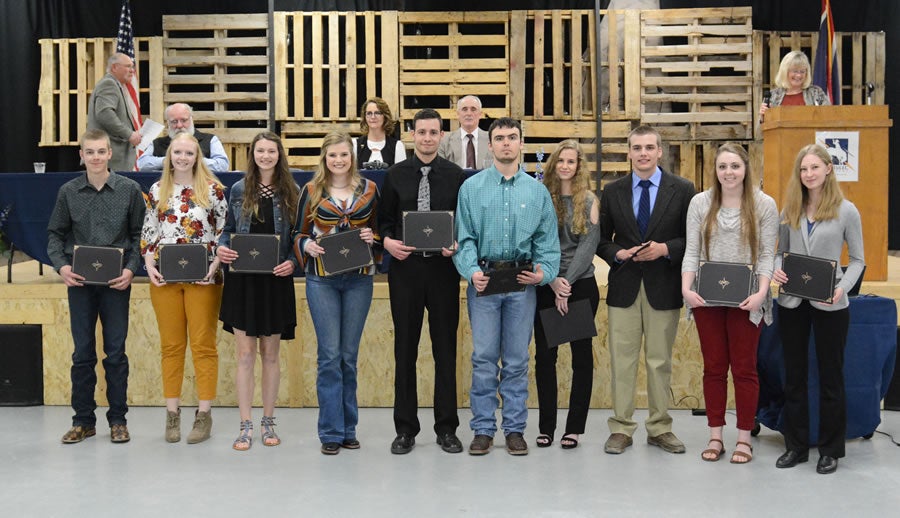 Requirements
Complete this application (attach additional sheets as necessary). Your name and address should be on all attachments.
Enclose your most recent academic transcript whether it be from a high school, college, university, or trade school. *CURRENT COLLEGE FRESHMAN – Committee requires more than one semester or quarter of grades. If this applies to you, submit your high school transcript.
Enclose a copy of your college entrance examination (ACT and/or SAT) scores.
Enclose a statement written by you outlining your career goals and employment history.
Enclose at least one letter of reference from a teacher, counselor, employer, or co-op system manager.
Document high school/college honors, community and school activities, and list any other scholarships you have been awarded for this coming year.
Enclose a picture of yourself. If selected for a scholarship, a digital photo file will be needed along with a note acknowledging the source of the photo. The scholarship recipients' photos will be published in the Wyrulec newsletter featured in the WREN magazine. 8. Answer the following essay question: A bachelor's degree from an accredited college can mean that by the time a person retires, he or she has earned at least $800,000 more than someone without a college degree ($20,000 per year for 40 years.) What would you do if you had the entire amount, $800,000, today? Explain. APPLICATIONS WILL NOT BE CONSIDERED UNLESS ALL THE ABOVE REQUIREMENTS ARE MET.